Hotmelt adhesive web is also called thermoadhesive Web. It is used to bond and laminate with different materials, such as textile, leather, foam, 3D spacer, aluminum sheet. Its unique characters (soft, breathable, light weight) makes it the most versatile adhesive in various applications.
Hotmelt adheshive Web is made of 100% thermoplastic polymer resins. The final form is in roll with different width and weight. The fabric structure are like nonwoven. It can be activated with heat, like flatbed lamination machine, hot roller, hot press, heated air etc. For bonding process, it is more clean and easier to handle comparing to hotmelt powder.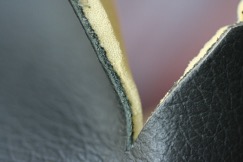 With innovative technology, Protechnic has developed many premium adhesive Web products in the market. Protechnic pro'bond has become one of the most recommended brand in thermoadhesive bonding, especially in the automotive industry.