What is lamination?
Lamination involves combining different materials with the help of laminating machines. It maintains the individual properties and characteristics of each layer. Laminated materials have better strength, stability, durability, comfort, and appearance as a whole unit.
Lamination is used to join materials, such as foams, fabrics, PVC foils, leather, artificial leather, non-woven, film, paper, metal, honeycomb, or other materials.
During the lamination process, factors such as machine heat, pressure, time, and adhesive and material quality are essential. 
What is flame Lamination?
Flame lamination is one type of continuous lamination. It uses the adhesion properties of the foam. It has existed for decades. In the process, thermoplastic foam in roll is passed over a machine with a line-gas-burner flame that burns the foam's surface, thereby creating a thin layer of molten polymer. As the foam melts, the fabric is quickly pressed against it while it is still molten. After cooling, the two substrates can bond together. A flame laminating system can do single-sided lamination and double-sided lamination.
Flame lamination and coating process
PU foam is the most applied in flame lamination because of its unique properties (soft, flexible, etc.). Flame bonding could keep its flexibility and softness. For applications, flame lamination is widely used in automotive seating, public transport, shoe, upholstery, and other industrial applications.
Flame lamination features:
Cost-effective (Flame lamination is one the most economical lamination solutions)
Fast speed (Working speed: up to 30m/min – depending on the material)
Request equipment investment to handle gas, odor, smoke
Material lost (As the surface will get burned, flame lamination will make foam thinner and lose material. There will be costs of the burnt-off layer of foam)
There will be waste to start the flame operation comparing dry lamination
Generally, a lower bond strength compared to other methods used. Thermoplastic adhesives or liquid adhesive.
The flame lamination process can have the possibility to coat hotmelt adhesive in a roll on one side
What is dry lamination with thermoplastic adhesive?
In the dry lamination process, hot-melt adhesive, also called thermoplastic adhesive is used in roll form (film, web, net, and hybrid) to laminate different materials based on their thermoplastic characteristics. Roll-to-roll lamination and piece-to-piece lamination can both be done with this method.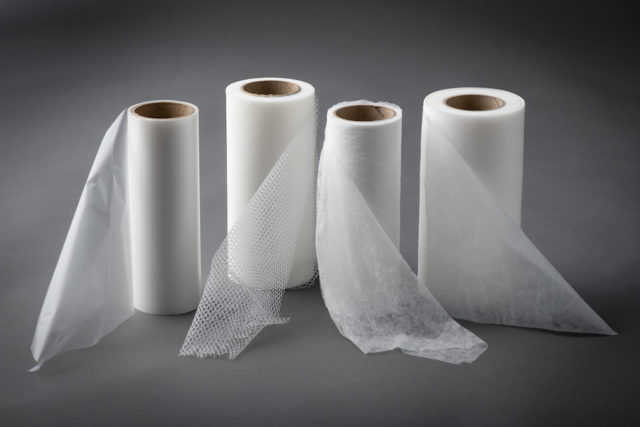 Hotmelt adhesive Web, Film, Net, and Hybrid
In terms of adhesive technology, hot melt dry adhesives are a clean, efficient, cost-effective, and for some, recyclable alternatives. It is possible to make adhesives from different polymers, such as copolyamide, copolyester, polyolefin, polyurethane, etc., which allows for a variety of choices to meet various demands and applications. More and more green materials are being made today, such as material based on bio-sourced and biodegradable.
With its wide range of polymers, structures, dimensions, and performance characteristics, it brings many possibilities. There are many industries in which it is used, including automotive, shoe, composites, garment, filtration, and electronics, etc.
Dry lamination process?
Laminates can be made in either single or multi sandwich layers configurations based on the construction of the machine. Adhesive can be easily coated or transferred on the substrate with paper or PE backing. The following are the process that can be used.
Flatbed press ( up to 5 layers)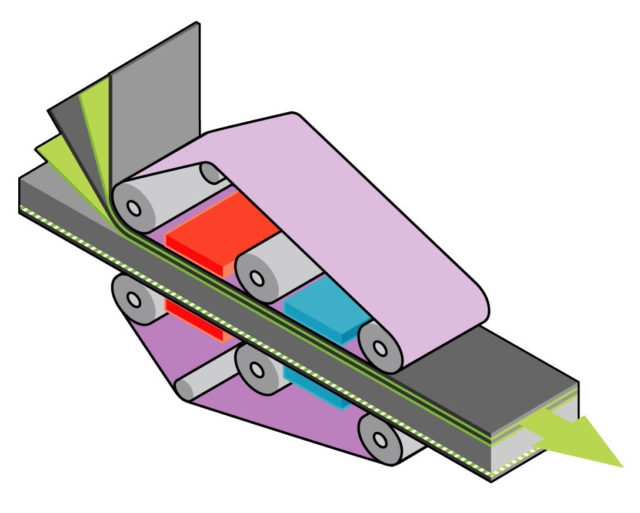 Regular calender and belt calender
Thermoforming (cold or hot process)
Ironing and streaming
Dry lamination process features
Lower machine speed comparing flaming laminating
No wastes ( 1 meter of adhesive= 1 meter of laminate)
Efficient bonding and homogeny (web, film, net, and hybrid structure is very homogeneous, it allows homogeneous bonding)
Low VOC
Various choices ( Adhesive Melting range from 75 to 200 degree with various polymer options)
Versatile process (Dry lamination technology has many lamination possibilities. For example. Piece to piece lamination, piece to roll lamination, roll to roll lamination)
Versatile substrates (More substrates can be applied through the dry lamination process (foams, fabrics, PVC foils, leather, artificial leather, non-woven, film, paper, metal, honeycomb, or other materials).
Contact our expert team for more laminating information →

Contact our team