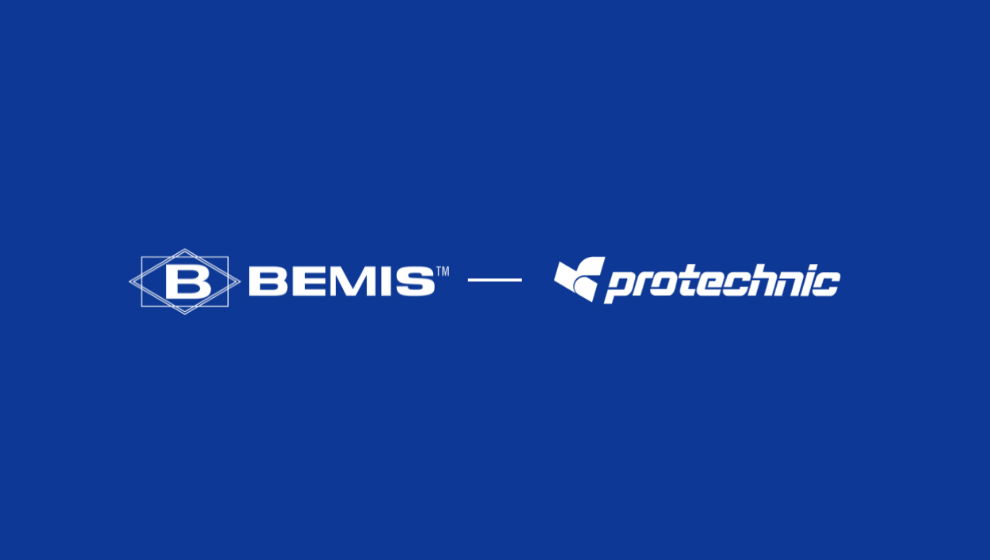 Bemis and Protechnic – Bonding together around the world
Bemis and Protechnic have come to together with one big goal – combine experience, knowledge and technologies in order to develop more innovative, effective and high-performance adhesive solutions for our customers' needs.
Complementarity of Bemis and Protechnic
For more than 110 years, Bemis Associates has partnered with the world's great technical, performance, luxury and lifestyle brands in the search of inventive ideas that revolutionize the way of manufacturing adhesives, coatings, tapes and special films.
With the integration of Protechnic and its industrial adhesive solutions, the collaboration will foster the mutual business growth as well as the worldwide expansion of our manufacturing footprint to better serve customers in every region.
Merging high-performance product lines
The collaboration brings together different technologies, including Bemis Cast Film and Protechnic Blown Film, for enhanced and intelligent bonding solutions in apparel, footwear, auto & transportation, consumer electronics, safety and medical industry.
On the one hand, Bemis' adhesives provide solutions for applications requiring stretch, high recovery, durability, reinforcement, sleek and smooth finish:
• Sewfree on Demand® – revolutionary new bonding solution designed for precision in apparel applications
• Seam Reinforcement Tapes – strengthen seams and add aesthetic flexibility and smooth touch
• Waterproofing Seam Tapes – seams for waterproofing
• Embellishement Films – add reflectivity, breathability, abrasion resistance, and stretch
On the other hand, Protechnic's adhesive portfolio perfectly complements the Bemis' product range with different structures and sustainable solutions:
• Adhesive Web – Allows better bonding results through breathability and flexibility
• Adhesive Film – full surface bonding, high peeling strength and resistance to chemicals, can be applied as barrier with multiple layers
• Adhesive Net – Provides even more bond strength than web or a film of equal weight due to adhesive thickness with varying degrees of openness
• Adhesive Hybrid – Combined flexibility, breathability and bonding strength from Web and Film
Added value – Good reasons to bond with us
Together, we are going to devise hot melt adhesive solutions which provide you with :
• sleek low-profile design
• safety
• enhanced performance and comfort
• enhanced design and aesthetics
• durability
Our aim is to ensure success from the concept to commercialization through customized formulations, our complementary technical support at the Experience Center including lab testing for compatibility and application suggestions, and on-site factory support in-region to ensure smooth and effective implementation.
Combining our strengths, Bemis and Protechnic will help you to meet your challenges and engineer imagination.
Bemis&Protechnic
Bonding together around the world.
Visit their website :
https://www.bemisworldwide.com