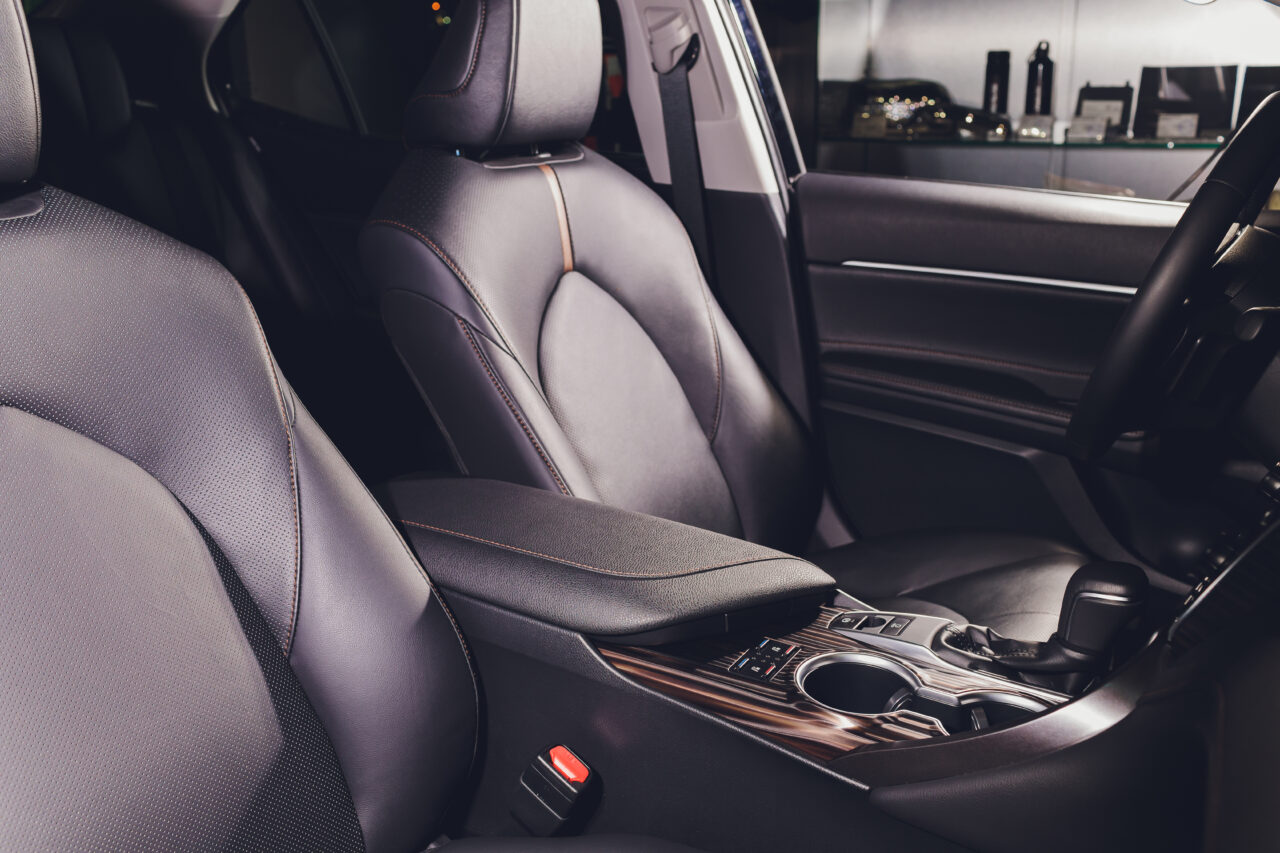 Automotive manufacturers have specific needs when it comes to assembling materials. As the market evolves, the need for versatile and sustainable bonding solutions becomes essential. In addition, car interior becomes increasingly customized.
This is where thermoplastic adhesive in roll comes into play.
Thermoplastic adhesive able to bond any material in automotive
Whether you're working with leather, alcantara, microfiber, PVC, PU artificial leather, foams or technical non-wovens, hotmelt adhesives in roll ensures a seamless and durable bond allowing the best and lasting comfort for the end user. Thermoplastic adhesive provides a consistent and durable bonding. It plays an active role in stabilizing materials so the shape of the part remains the same through time.
Adhesive for car interior parts
Hotmelt adhesives play a vital role in ensuring these components are bonded correctly, giving the vehicle's interior a refined look and feel in applications such as : Headliner, Pillar, Door Panel, Seats, Parcel Shelf & Carpet…
The added value of thermoplastic adhesives in roll for car applications
Heat Resistance: Especially critical for headliner construction in cars, higher melt adhesives are preferred due to their resistance to temperatures.
Acoustic Behavior of Materials and Adhesive: Ensuring sound absorption/reflection is crucial for elements like the parcel shelf and trunk liner. The right adhesive choice can positively impact the car's internal acoustics : different adhesive structures such as plain film, perforated films, webs, nets are available.

 

Delicate Materials: Some materials, especially leathers, have processing limits. It's essential to choose an adhesive that doesn't damage or alter the material's appearance or functionality due to to much heat.
Protechnic Adhesive Product Advantages for the automotive
Protechnic adhesives bring a multitude of advantages:
Easy industrialisation & development: As there is very limited machine set up, roll goods enable easy and quick development, and production changes.
Excellent Bonding and Reinforcement: They improve the stability and longevity of the final product as they have excellent aging properties.
Limited weight of adhesive : Introduced in roll form between two substrates the adhesive stays in the middle avoiding loss of glue into substrates
Comfort & Safety: From a soft touch and improved seating comfort to very low emission products, thermoplastic adhesives in roll prioritize passenger comfort. Automotive quality standard compliance is a major aspect of Protechnic's approach to adhesive development.
Appearance & Functionality: They significantly reduce wrinkles, especially in leather lamination areas, and enhance embossing, perforation quality, alignment, and sewing. Multi-layered film can also provide barrier functionality.
Plasticizer resistance: Certain adhesives may react negatively to specific chemicals. For flexible substrates enhanced with plasticizers, our adhesives are formulated to resist to these chemicals.
Quality system compliant adhesives: Our production process/products aligns with Automotive Quality Specifications.
Emissions: A Requirement for the automotive industry 
We match automotive quality requirements in terms of very low VOC content inside our adhesives. Protechnic selects its raw materials meticulously (ex: very low emission adhesive raw materials and partially bio based raw materials up to 91%).
Sustainability in automotive : Recycle bonded automotive materials
Assembled materials can be recycled as the adhesive and material share the same polymer nature. 
(Ex: PE substrates bonded with PE adhesive can be recycled) 
In conclusion, hotmelt adhesives, especially those extruded by Protechnic, are aligned with automotive quality requirements and specifications. Their versatility, durability, and compatibility with a wide range of applications make them the perfect match for interior car parts manufacturing processes.